When is it better to choose BB, and when to choose HB, FB or All inclusive?
Planning a trip is always an exciting, albeit rather pleasant stage. Preparation of all necessary documents, purchase of tickets, the choice of a hotel or hostel partially transfer us to where we are just going to go. Of course, I want everything to be perfect, and unexpected surprises and misunderstandings do not spoil the rest or business visit. Therefore, you need to think about everything "from" and "to", including such an important point as the food at the hotel. When booking a room, as a rule, you can choose food BB, HB, FB, all inclusive and other, not all clear options.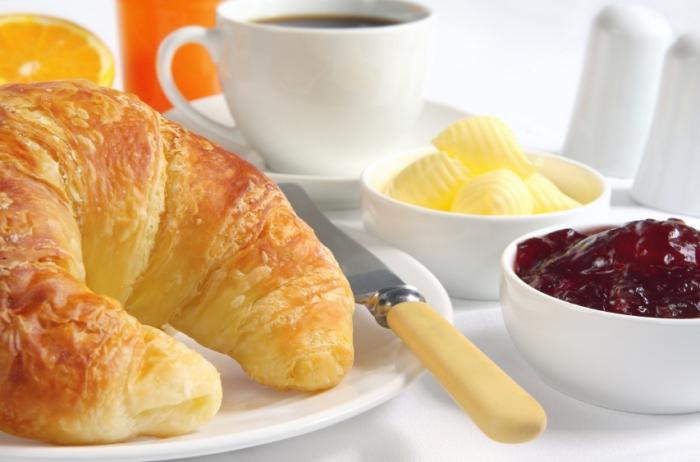 Sleep and eat. BB power

Our mood and impressions from a visit to another country largely depend on the comfort of the hotel. This includes not only the cleanliness of the rooms, their equipment, the politeness of the employees and the atmosphere in general, but also the way food is organized. We can directly influence the last point by choosing a convenient option. There may be several.One of the most popular is BB-food, which literally stands for bed & breakfast. This means that you are offered bed and breakfast, which can be of several types: continental (CBF), English (EBF), American (ABF) or buffet (BBF).
Light continental breakfast
CBF is typical for France. This is usually a choice of coffee or tea, juice, as well as a light snack in the form of buns or croissants with butter, jam and cheese. If your appetite is still asleep in the morning, then this is a great choice to start an active day.
English style breakfast
EBF is more satisfying. In addition to drinks and toasts, it implies the obligatory presence of scrambled eggs or nourishing cereal. Lovers of good and relatively good to eat in the morning English breakfast will have to like.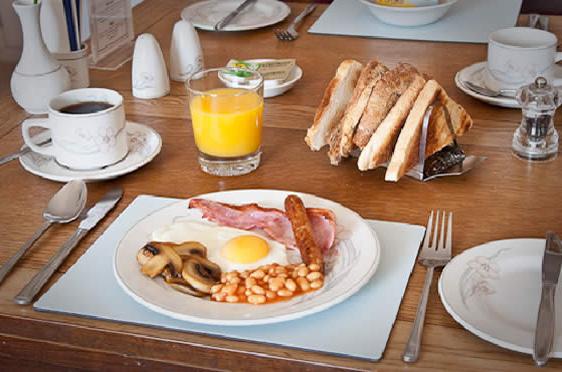 American big and rich breakfast
If in the evening you have dinner until 18-19 o'clock, then in the morning should have a good appetite. Then ABF is what you need. Tea, coffee and buns with jam are just a light addition to fried eggs with bacon or sausages, cereal or porridge and hearty pancakes with syrup. In some hotels, an American breakfast also includes cold cuts and even a hot dish.
Anything you want ... for breakfast
The most common and favorite tourist option breakfast - BBF, which is a real buffet with an abundance of cereals, cereals, cereals, yogurt, hot and cold snacks, fruit, desserts. The set of products depends on the specific country and the number of stars in the hotel. You can take as much as you like and whatever you like, but nothing can be taken out of the restaurant. By the way, if when booking a room it is not indicated what kind of BB food is offered by the hotel, then most likely this is a buffet.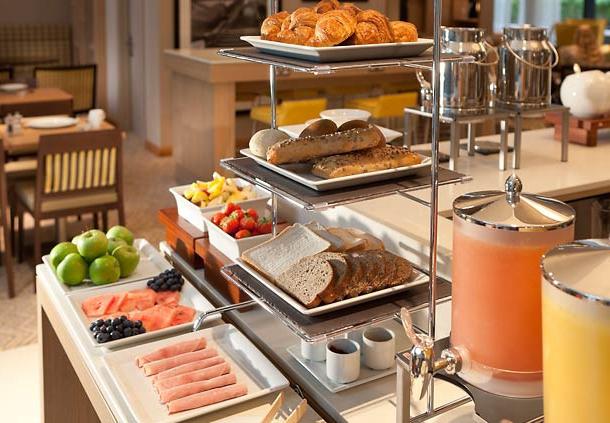 BB, HB or FB? What to prefer?
Going to Eurotrip for a few days with excursions and attractions, it is best to book BB-hotel. Then, with peace of mind, you will be able to walk all day long, stopping to dine somewhere in the city in a colorful local cafe or restaurant, try the cuisine that is unlikely to be offered at the hotel. If most of the time you are going to spend in a hotel or not far from it, meeting with business partners or working on other work issues, then it is worth considering other options. BB meals with lunches and dinners in restaurants and bars of the hotel can be much more expensive than HB (breakfast and dinner) or FB (full three meals). HB and FB in certain situations are much more convenient and cheaper.If you plan to include alcoholic and non-alcoholic drinks with meals (in unlimited quantities), then you should choose the extended category of these types of food "+".
Walk all! All inclusive food at the resort
And, finally, the food "in a big way", which is especially popular in Turkey, Egypt and other Starnah beach-hotel rest - all inclusive. Three meals a day with an unlimited offer of alcoholic and non-alcoholic drinks, snacks during the day, barbecue and late dinners - all this will be offered to you at no additional charge (as it is already included in the cost of the permit). It is worth choosing all inclusive for the time of short rest in order to relax as much as possible, not to think about anything and enjoy the sweetness of "doing nothing".

Choose wisely
So you decide what your journey and meals will be like during the trip. For a sightseeing or business trip, BB, HB or FB meals are suitable, and for a lazy-rest holiday, of course, all inclusive is what you need.
Related news
When is it better to choose BB, and when to choose HB, FB or All inclusive image, picture, imagery