Sweater from old sweaters: ideas, recommendations. New life of old sweater
Handmade today more than ever in fashion. Therefore, if you have time and desire to create a unique designer thing, you should not rush to the store for a cloth. Try to rummage in the bins of your closet and, having found an old, tired sweater, make something truly unique from it. What kind of clothes from an old sweater can work? Yes, the most different, and not only outfits, but also a lot of other useful things. Let's look at the most interesting options for how to breathe new life into obsolete clothing.
What can be done from an old sweater
Before you start work, look critically at the state of your sweater (how worn it is), because the quality of the future masterpiece depends on it.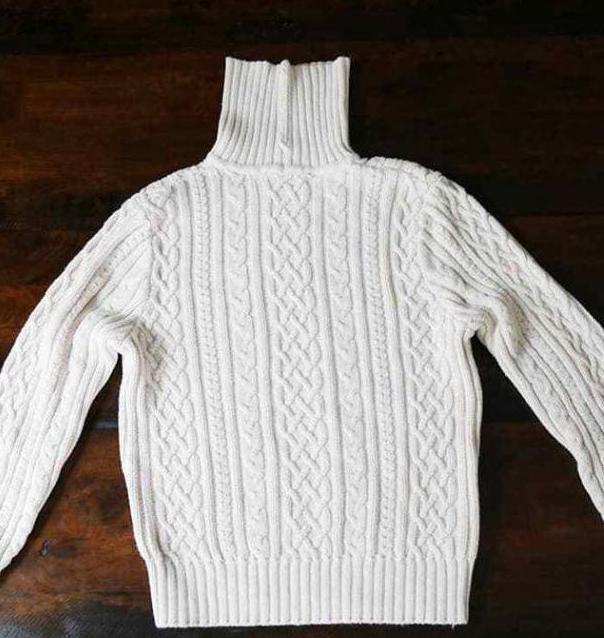 If the fabric is wiped, in some places there are pellets or holes, then such a sweater should be used only for the decoration of another attire, cutting out of it the most complete pieces of fabric.
When the sleeves are in good condition, of them it is advisable to sew leggings, mitts, socks or outfit for your favorite dog.
If the central part remains intact, put it on mittens, hat, bag, backpack, tablet case or heating pad.
If the total mass of the fabric is in excellent condition, but the seats near the elbows are slightly rubbed (stretched out), then disguise these shortcomings with a patch of felt, leather or lace. Thus, the look of your favorite outfit will only improve.
If the sweater and all its elements are in perfect condition (it just became boring) - try to sew something new out of it.
Well, if it is impossible to come up with anything with an alteration of the old sweater - dissolve it into threads and tie the outfit of them to your liking. In this case, it does not matter whether it is a hand-knitted sweater or a machine sweater.
We must always remember (deciding to do something new from the old sweater) that if the original thing is in poor condition, the result is unlikely to please.
Fabric evaluation of the original product
When choosing what will be the new life of an old sweater, consider what fabric it is sewn from and for which products it is suitable for, and for which not.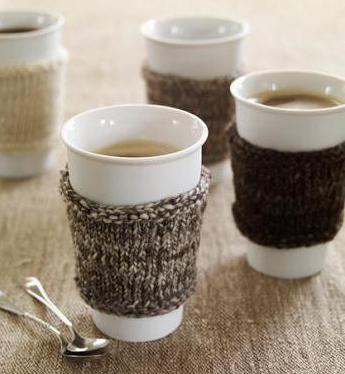 If a sweater made of felt, cashmere or fleece, the edges of the pattern of the future attire will not crumble, and therefore do not need separate processing.This material is perfect for decorating other products with applique. This fabric will also look great on a sweater blouse or dress. But for the case of all of the above, you should use only fleece or felt.
If the sweater is hand knitted or stylized for it, then redraw it very carefully so as not to miss the loop. In addition, the edges of the product must be wiped on a typewriter or manually with a needle. This rule also applies to thin knit sweaters and knitwear. From a similar material, in addition to new sweaters, excellent bags, backpacks, hats, scarves, mitts and leggings are obtained. In addition to the above, from several sweaters you can easily combine an excellent patchwork blanket that will warm you in cold winter evenings.
New sweater from old sweaters
Having decided to make a new sweater, you should not immediately reshape the old one, because if the original product is in good condition, you can simply refresh it with the help of a well-chosen decor. For example, make an appliqué fabric on the chest. Also a combination of sweater with lace inserts will look very advantageous.They can be used on the elbows and shoulders. The addition of a sweater with a lace collar will look very good. An interesting option would be the decor of the bottom attire delicate fabric like chiffon or lace. Or try experimenting with material from a shirt.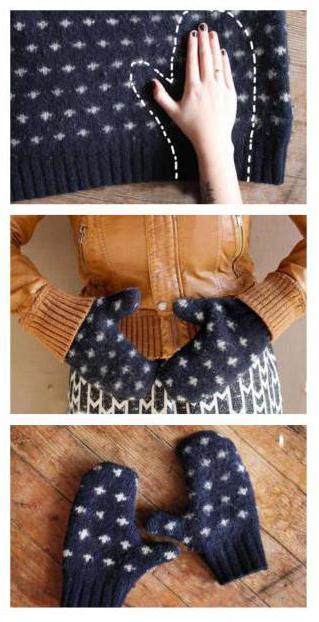 Creating a new sweater from old sweaters, do not forget that it is warm clothing. So do not sacrifice its functionality for the sake of beauty. After all, the runny nose and temperature, earned due to insufficient warmth of the dress, have not served anyone as a good decoration. Show imagination and, having gotten along, you can make an excellent warm sweater from old sweaters. Creating one model of several, do not overdo it: all the details should complement each other, otherwise, instead of a masterpiece, you get a complete misunderstanding. Having learned to sew sweaters, try your hand at something more complicated, because you can create not only a sweater from old sweaters, but also an elegant cardigan coat.
How to make a sweater blouse
If it's already spring and you want something light, but still warm, then use the annoying sweater as a decor for a blouse or shirt. Make such an outfit is not difficult.Cut off the front and collar of the shirt. Sew on cuffs, elastic (in place of the collar) and the front of the sweater. And the rest of the fabric from the back, use for sewing hats, mitts or leggings that complement the set.
Experimenting with a blouse and sweater, change the sleeves of the latter to chiffon. Or do the opposite: sew only sleeves and a collar from a sweater to your blouse. Also try cutting out the top by inserting a piece of bright fabric there.
Dress from an old sweater
Having dealt with sweaters and their various variations, let's think about dresses. After all, from a thin sweater with skill you get an original and feminine outfit. If, because of a few kilograms gained over the winter in your favorite tight-fitting sweater, you don't look very good, then you can turn it into a great dress with the help of false wedges made of other fabric. Replace sleeves if desired.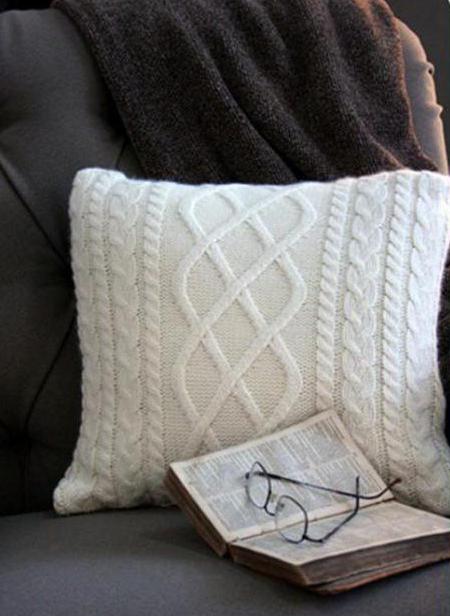 If it's too difficult to tinker with wedges and sewing the sleeves, cut the bottom of the sweater at chest level and sew a straight skirt of warm thick fabric to the resulting top. Or make a great dress from a combination of two sweaters.To lighter sew the cuff from a darker, from which and carve out the lower part of the dress. As an experiment, try to fit the figure and decorate an oversized sweater with a brooch, turning it into a fitted dress.
Elegant underwear from an old sweater
From thin sweaters can get quite elegant underwear. Although unaccustomed to such an idea seems wild, but in Canada for several years, panties, warming shorts, cashmere combos and shirts have been a great success. If an old cashmere sweater is lying around in the bins, sew a T-shirt or panties from it. However, do not forget that the crotch in them should be from a natural fabric like cotton.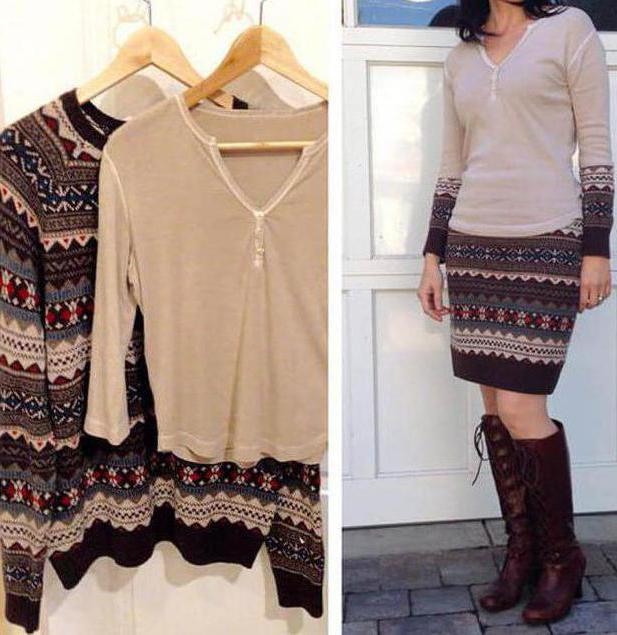 How to dissolve the old sweater
Dissipating the sweaters on the yarn, remember the individual nuances:
Wool makes excellent wool for knitting.
Threads from synthetic sweaters are perfect for embroidery.
Cotton sweaters are the perfect source for crocheting.
Having decided to dissolve the product, wash it well and dry it beforehand. Next, carefully seam the seams and find out whether each piece was knitted separately by the machine or it was cut from a knitted cloth. In the second case, the thread will constantly break.Having dissolved the canvas, the resulting threads need to be straightened. To do this, wrap them on the back of a chair or other stretching.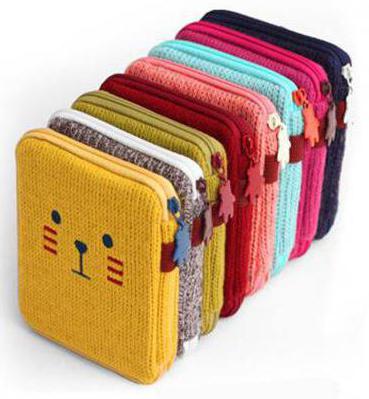 Stake the resulting hank in four places and gently wash your hands. After rinsing and squeezing gently, hang a hank to dry, tying a small load to it (for better straightening). When the yarn is dry, cut the 4 knitting yarns and wind everything into a ball.
Household stuff from old sweaters
In addition to clothes, try to sew other things from sweaters. For example, covers for books. Below is an interesting workshop. From the old sweater you can easily make homemade slippers. Try to make such for yourself, and the cold floor in the winter you will not be afraid. In addition, the fabric from the sweater is perfect for sewing decorative sofa cushions, tacks, stands for cups. Or try making original decorations on the Christmas tree.

Showing ingenuity, you can create a mass of new original things.
It all depends on your imagination. After all, if you think about it, then from the old sweater you will be able to create many exclusive products that will warm not only the body, but also the soul.Dare, and you will surely succeed!
Related news
Sweater from old sweaters: ideas, recommendations. New life of old sweater image, picture, imagery