Steve Hanks: inspirational and romantic watercolors
Steve Hanks (1949-2015) is recognized as one of the best American watercolor artists. The details, color and realism in this complex area of ​​art are incredible for a painter.
A bit of the biography of the artist
Steve Hanks was born in the family of a soldier in San Diego. As a child he played tennis a lot and surfed along the beaches of Southern California. Ocean forever entered his soul with its magnificent and mysterious force. After school, he studied at the Academy of Fine Arts in San Francisco, receiving excellent marks for portraying figures. Steve received a bachelor's degree when he graduated from college in California.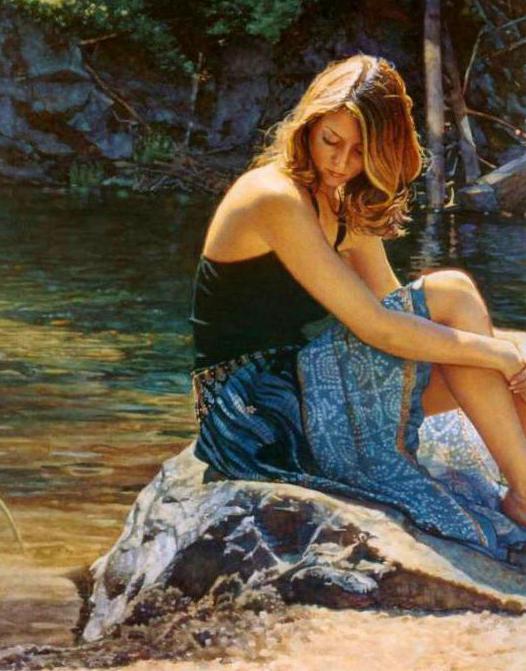 In 1976, he became a guard at a camp in the state of New Mexico. Earned pennies, but life there was free. In addition, when the camp was empty during the winter months, it was all the time owned by Hanks. For four years he improved his skills and called his style "emotional realism".
Romantic scenes
Spectators are attracted first by the beautiful scenes that Steve Hanks writes. The artist loves and knows how to portray children and women.Their faces are often hidden, turned away from the viewer, while there is still room for imagination. Only the figure expresses its feelings: tenderness, care, affection, concentration.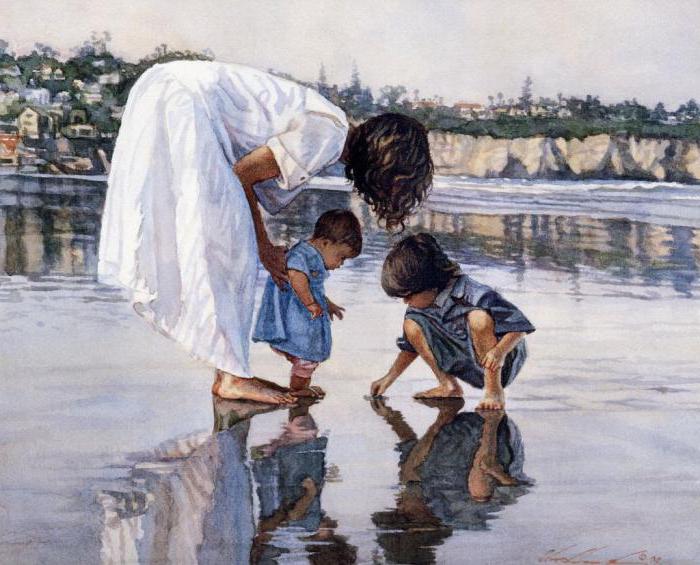 The backlight is also an element of his style. The colors chosen for the image of the skin and veins on the models are very complex. Skin tones are very much. They change under the influence of light, objects around, lights and colors that are reflected on it.
Technique of work
The artist often takes models to the beach, to the street, and besides, he likes to make small films with them, which he then cuts into frames. Starting to draw graphite on paper and putting in the center of the face and body, Steve Hanks continues to paint, taking elements from different frames. He puts on a watercolor paper several layers of transparent color. The artist is very conscious of how sunlight reveals the form, and considers it an important element of his paintings. He said that he draws light, life and love.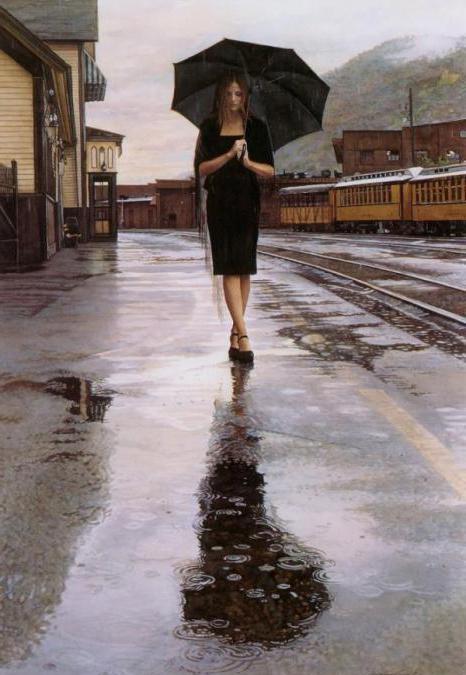 The artist in the work is always one picture, because he draws on wet paper. Separate sections should have smooth transitions. It is very important for him to have soft edges between skin tones and then remove excess paint with a brush or paper towel to avoid a sharp unnatural line between bright shapes and shadows.
He works with synthetic brushes and brushes, using mainly watercolor paints of such colors: cadmium yellow pale, yellow ocher, cadmium red, alizarin raspberry, burnt sienna, and a number of others. To get a dark brown color, it combines red, purple and green, then the colors of the earth are obtained. In recent years, he began to lacquer his work, and therefore they demanded a framework with glass.
Personal motives
Very deep sorrowful feelings were written by Steve Hanks, depicting a model sitting on the steps in front of the house and lit by sunlight. He does not please her. She just went through a divorce. The artist understands the emotions that completely captured her, because in the recent past he himself went through them. The model sits at the base of the stairs, and the artist deliberately removed the pedestrians. She herself should think things through well, and no one should interfere with her.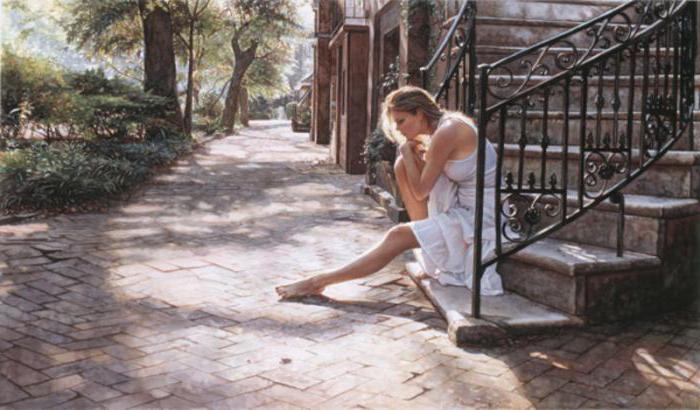 The most personal feelings are revealed in Hanks when he draws fathers with their children. After his wife left him, he felt as if someone had cut him out of photos. Very reverently writes Steve Hanks "Journey with Dad." On the desert platform, the father gently presses his son, gently clinging to him. Next to them is a small suitcase. They are sent to the unknown.The artist is very sorry that he sold this work and can not buy it.
Watercolors by Steve Hanks
The artist feels his gift for which he is responsible. He wants his works to bring people pleasure and joy, to make them think about what, it seems, simple things make up happiness. He wants every day not to become everyday, but to open a holiday for man. He said that he hoped that each of his works brings pleasure and understanding of life. He perceives life itself as a journey and upbringing of children. They ended up with him. Every moment, every sunrise, laughter, breath is beautiful for him. The pleasure of these moments Steve Hanks expresses in his art.
Related news
Steve Hanks: inspirational and romantic watercolors image, picture, imagery