Motorcycle Irbis GR 250: photo, specifications, pros and cons, reviews
For an inexperienced person, motorcycles belonging to the same class and more or less equal in value are almost identical to each other. To some extent this is the case, since manufacturers prefer to use time-tested and inexpensive technological solutions in production, rather than reinvent the wheel. The Irbis GR 250 motorcycle is not an exception to the rule - an elegant and simple road bike with a modern and rather aggressive design that sets it apart from many competitors.
Motorcycle description
The motorcycle has got a modern appearance, although it resembles many Japanese bikes of the same category, which is especially noticeable in the photo. Irbis GR 250 has an undoubted advantage - a thoughtful and attractive design, thanks to which it looks much more interesting than its low-cubic counterparts.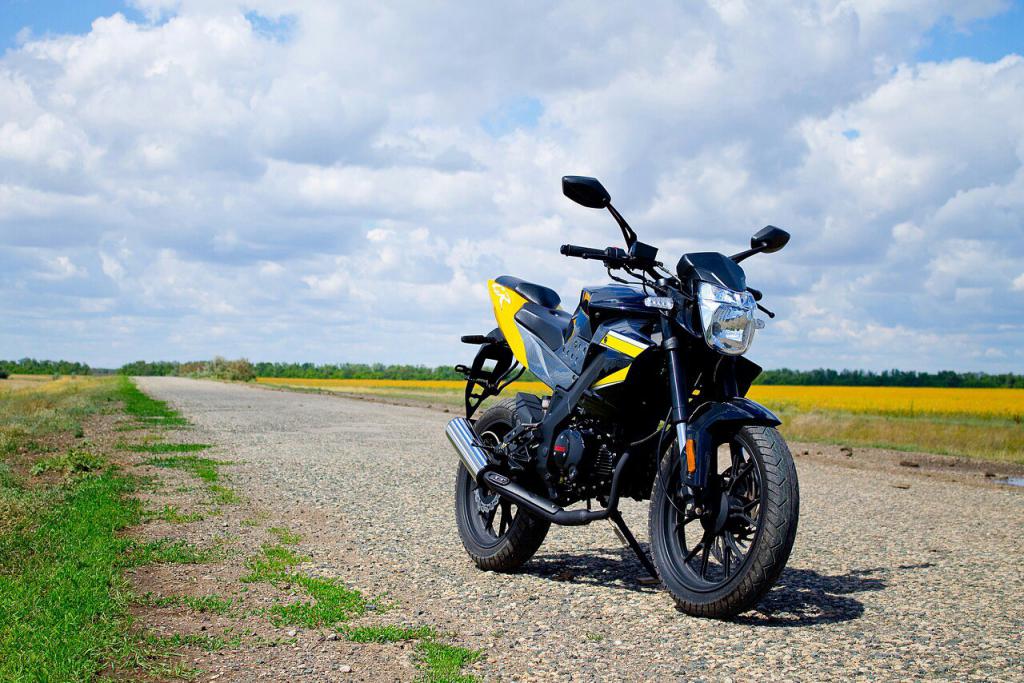 The technical component is quite expected: an engine with an air-cooling system, a steel frame, a five-speed transmission and a carburetor — no innovative or extraordinary solutions.
The advantage of the motor is its excellent balance with a power of 16 horsepower and torque of 17 Nm. Of course, with such technical characteristics, the Irbis GR 250 will not turn into a rocket even considering its low weight, but it allows the owner to confidently stay in the city traffic.
Bike - the best option for training. It is maneuverable, lightweight and very comfortable for daily use. The fuel tank with a volume of 14.7 liters is enough for 300 kilometers of a way without refueling due to a small flow rate - from 2.5 to 4 liters, depending on driving style.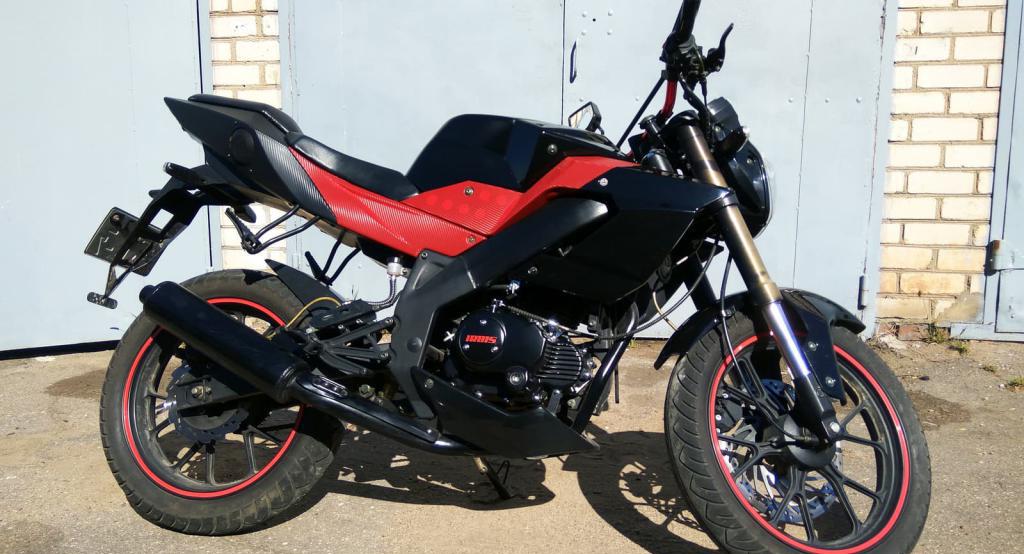 The maximum developed speed is 140 km / h, but the dynamics of acceleration leaves much to be desired. Transmission Irbis GR 250 is characterized by short ratios and good dynamics, but the driver has to work quite actively foot gear. Acceleration to 140 km / h after a set of 110 km / h is difficult: the engine loses its thrust.
Irbis GR 250 Specifications
The motorcycle is built on the basis of a diagonal tubular frame, on which a durable and high-quality plastic body kit and large lighting equipment are mounted. The sporty design of the bike is emphasized by the original company stickers, an exhaust gas exhaust system created especially for racing motorcycles, and a sport seat with a comfortable fit.
The height of the Irbis GR 250 is 1050 millimeters, length - 1950 millimeters, width - 740 millimeters. The unladen weight of a bike is 130 kilograms. The Russian motorcycle is completed with a 250-cc four-stroke engine built on the basis of the Japanese power unit. The cooling system is a classic air one, the motor is equipped with an electric starter and carburetor power.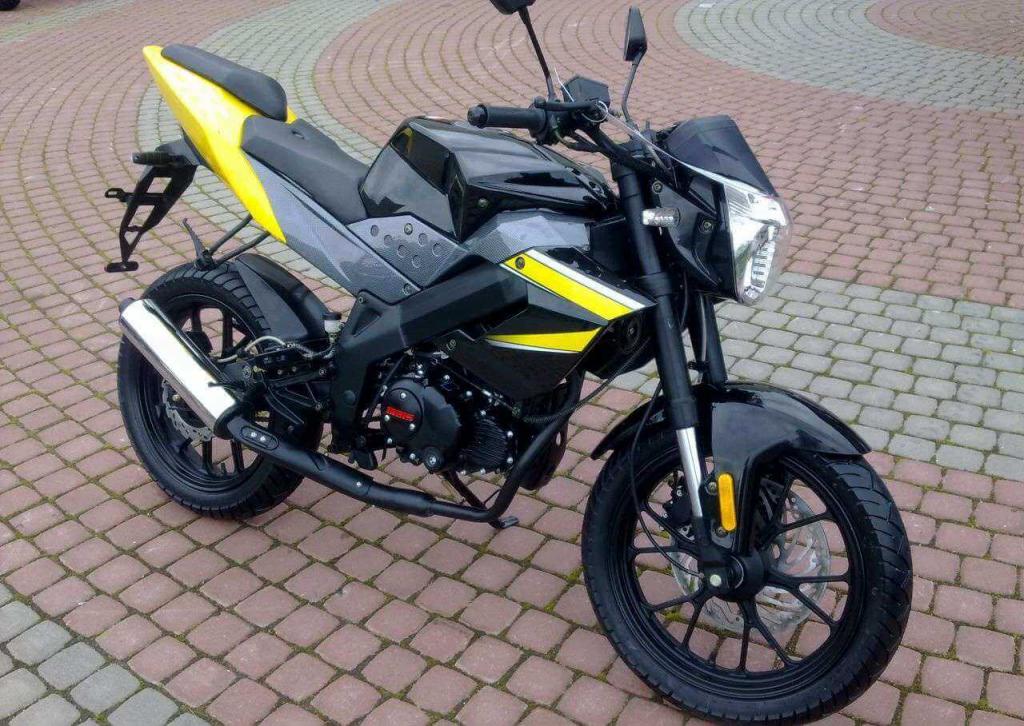 Paired with the engine is a five-speed manual transmission with multi-plate clutch immersed in an oil bath. Peak power is 16.5 horsepower, maximum torque of 17 Nm is reached at around 7,500 revolutions per minute. You can accelerate the Irbis GR 250 to 140 km / h.
Motorcycle benefits
Affordable cost. A new bike will cost at least 60 thousand rubles.Purchasing a Japanese or Chinese equivalent in good condition for an identical amount is very difficult.
A large amount of fuel tank, providing good autonomy and a large reserve.
Unpretentious service and low quality of fuel. The simple design of the engine Irbis GR 250 allows the use of gasoline of dubious quality, but this is not the reason for testing the engine for strength.
For the 250-cube bike, the Irbis has excellent dynamics, and the technical characteristics are sufficient for its daily operation.
Reliability and high quality components and assembly.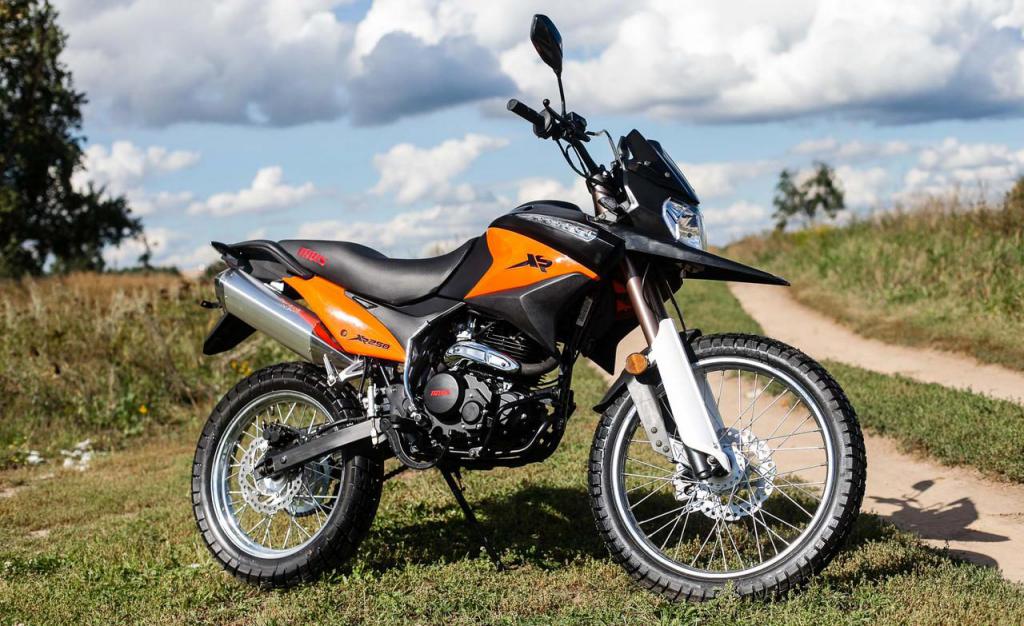 disadvantages
Primitive suspension design and the absence of any adjustments. The averaged parameters are not suitable for everyone, but they are sufficient for driving in the city. When transporting a passenger motorcycle sags significantly.
Side wind blows the bike off the track, which is especially noticeable when driving in open spaces.
At speeds of over 80-90 km / h, it is difficult to predict overtaking due to insufficient dynamics.
The compact dimensions of the bike make it convenient to accommodate only the driver of medium size - tall pilots and two people will be uncomfortable.
Owner reviews
Movers in the reviews of the Irbis GR 250 note its simplicity and affordable price. According to the characteristics and qualities of the bike fully justifies the money spent on it. The Irbis GR 250 is the ideal compact and lightweight motorcycle for training beginners. Of course, he has his shortcomings, but they are not as serious as one would expect.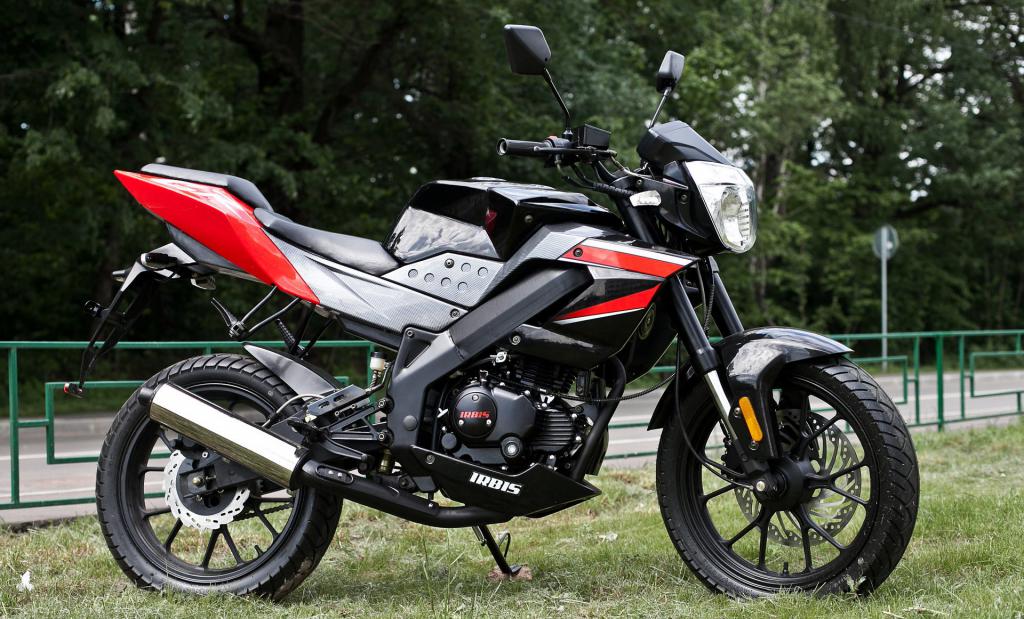 Used models of the GR 250 with large mileage require replacing the chain and can then go even a few tens of thousands of kilometers.
Manufacturer
Motorcycles brand Irbis most motorists are considered Chinese technology, although in reality this is not so. The Irbis brand was created in 2001 by a group of young people from Vladivostok who set themselves the task of creating a moto-transport that is accessible to a wide range of buyers and is able to compete with European and Japanese counterparts. As a result, the first scooter of the brand was released - the Irbis Z50R.
The company began to actively develop, and in 2005 the first official office for the sale of motorcycles was opened in Moscow. The dealer network began to be created in 2006, and today it includes over two thousand centers from Kamchatka to Kaliningrad, in the assortment of which there are 30 models of motorcycles Irbis and more than five thousand types of accessories, spare parts and equipment.
Irbis motorcycles are an ideal technique for both experienced riders and beginners, only learners to ride. The transport produced by the company is adapted to the difficult Russian conditions and has proven its reliability in practice. It is worth noting that the latest models of Irbis mototransport are produced in full accordance with the wishes of customers: feedback from customers is very important for developers.
GR 250 main competitors
Stels 300 Benelli and Benelli 600. Chinese-made road bike with excellent technical characteristics and modern design with aggressive notes. Irbis inferior in price - the Russian bike is several times cheaper than a competitor from China.
Genata YZF 250. Chinese motorcycle, belonging to the class of sport bikes, but it is not: from a technical point of view it can be easily attributed to the category of road bikes.
Honda CB 250F Hornet. One of the most popular low-maintenance bikes with a forced engine, which, coupled with low weight, provides unsurpassed dynamics. Despite the excellent reviews, a small working life of the engine and a solid age model affect the technical condition, which greatly complicates the search for models in the secondary market, at least in an acceptable condition.
Related news
Motorcycle Irbis GR 250: photo, specifications, pros and cons, reviews image, picture, imagery