Blueberry Charlotte: Recipes and Cooking Secrets
Charlotte with blueberries is an airy dessert that has long been in love with all those who appreciate fast and sweet pastries. You can cook it not only in the oven, but also in the slow cooker, but to enjoy the taste better with a glass of sweet tea, compote or milk, with them is much richer.
Preliminary preparation of products
Cooking any food begins with the collection of ingredients. For charlotte you need to get from the kitchen cabinet flour, eggs, salt and sugar. These products will be required necessarily. Blueberries can be used any - fresh or frozen. In the first case, it should be well sorted out from foreign particles and rinsed with boiling water, in the second case - left for a few hours in the room and do the same.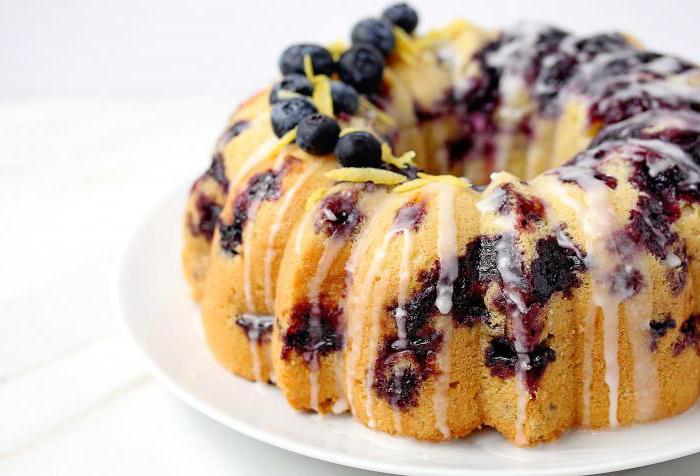 Charlotte in the slow cooker
It's much easier to cook a lush charlotte with blueberries in a slow cooker than anywhere else. It turns out gentle, refined, surprisingly fragrant.
Ingredients:
eggs - 4 pcs .;
granulated sugar - 0.2 kg;
juice, squeezed from half a lemon;
flour - 160 grams;
salt - 1 pinch;
butter;
baking powder - 1 bag;
blueberries - to taste.
Cooking method
Beat the eggs, beat the whites with lemon juice, baking powder and salt, yolks - with sugar and flour. Pour both parts into the same bowl, gently mix with a silicone spatula to saturate the dough with oxygen. At the bottom of the bowl to put blueberries, washed and moved from the garbage. Pour her dough. Close the lid of the miracle assistant, turn on the Baking mode and wait for the beep. Charlotte with blueberries is ready, you can serve at the table.
Blueberry charlotte on kefir in the oven
The dough made on kefir, turns out high and porous. Berry gives the finished baking amazing purple color. As a result, the charlotte with blueberries in the oven is easy, beautiful and amazingly tasty.
Ingredients:
a glass of kefir and wheat flour;
eggs - 3 pcs .;
store baking powder - 10 g;
granulated sugar - 50 g;
low-fat sour cream - 50 g;
starch - 1 large spoon;
frozen blueberries - to taste.
Cooking method
Beat eggs with sugar until the weight increases by 2 times. Pour the kefir, after another 2 minutes add baking powder.Pour into the resulting mass of flour, passed through a sieve, stir with a silicone spoon. Thawed berry roll in starch and shift into dough. Future charlotte gently pour into the form, bake in the oven at 180 degrees for half an hour. Then decorate with sauce made from sour cream and 2 tbsp. spoons of sugar (you can not do this). Allow to cool and serve.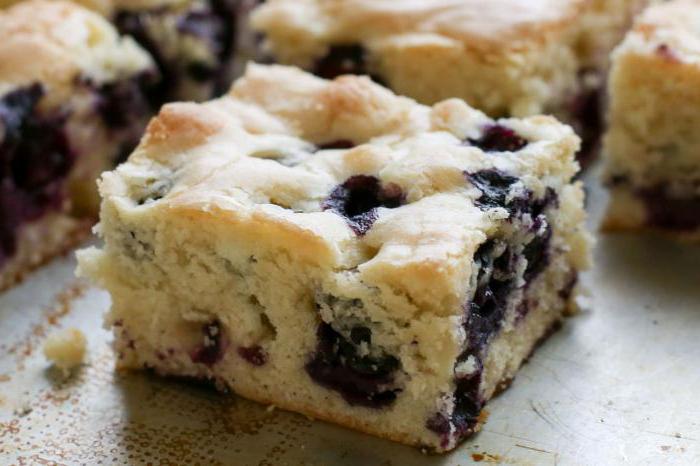 Charlotte with apples and frozen blueberries
Charlotte with frozen blueberries is no less sophisticated than fresh. Apples only complement its wonderful taste. In addition, cooking this cake is a pleasure, especially in winter (it reminds of summer).
Ingredients:
wheat flour, kefir and granulated sugar - 1 glass each;
a pair of chicken eggs;
melted butter - 50 g;
baking powder (or hydrated soda) - 6 g;
red apples - 2 pcs. (more or less);
starch - 1 tbsp. a spoon;
blueberries - a handful.
Cooking method
Beat eggs with sugar in a deep bowl, add kefir and gradually the rest of the ingredients. Rinse apples and blueberries, chop the fruit, pour everything into the dough and mix. Grease the deep form with oil, pour the contents of the cup into it.Put bake in the oven for 42-45 minutes, cook at a temperature of 176-180 degrees.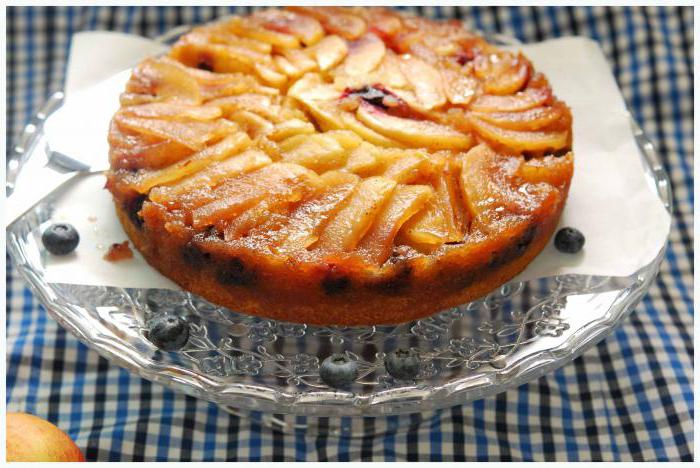 Charlotte with raspberries and blueberries
Cooking a blueberry charlot with this recipe is pretty simple. The pie turns out easy, contains only 193 kcal. Therefore, even those who are on a diet can eat it.
Ingredients:
Cooking method
In order to get a lush charlotte, you must first beat the chicken egg white with sugar, and then add the yolk and baking powder to them. Immediately pour flour. Knead the dough into a greased form and put into a preheated oven. Bake 42-48 minutes at 180 degrees. Get it, cool it a little by putting it on a wet towel, chop it and serve it to the table.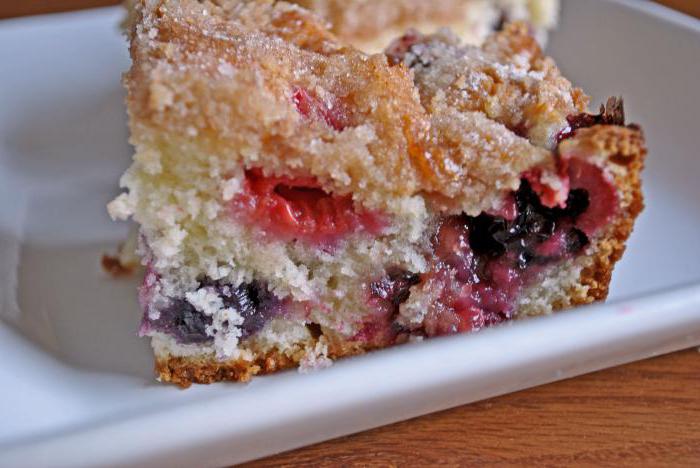 Charlotte with curd and blueberries
This pie is good to cook, if guests unexpectedly came to you. It is very nutritious, easy to create, does not require constant supervision. And it turns out so unique to the taste that any eater fingers lick.
Ingredients:
eggs - 2 pcs .;
soft cottage cheese (you can take sweet) - 0.2 kg;
flour - 3 tbsp. spoons with top;
sugar - 0.5 st .;
vanillin - 5 g;
thawed blueberries - a little less than a glass.
Cooking method
In a mixture of eggs and sugar, put all the ingredients except berries, mix well. Grease the form with a piece of butter. Pour half of the dough into it. Here also send and thawed blueberries. Distribute dough on top. If desired, you can top it with a few more berries or chocolate chips. Put the future charlotte in the oven, bake for 42-52 minutes at 180 degrees.

Charlotte with blueberries and cherries
This is a very unusual recipe for charlottes, but baking on it with due diligence of the hostess is perfect. Whether you decide to create a cake for a festive table or for a regular one, a second after cooking, there won't be any crumbs left from it.
Ingredients:
3 eggs;
granulated sugar - 180-200 g;
baking powder - 1.5 small spoons;
pitted cherries - 1 tbsp .;
blueberries, fresh or thawed - half a glass.
Cooking method
Clean the garbage and wash the berries, leave in a colander to glass the water. Knead the dough: mix eggs with sugar, beat. Add baking powder and flour mixed together. Put the berry on the bottom of the form and pour it into the resulting dough. Put in the oven.Cook at a temperature of 175-215 degrees for about 30 minutes. Take out, cool and serve.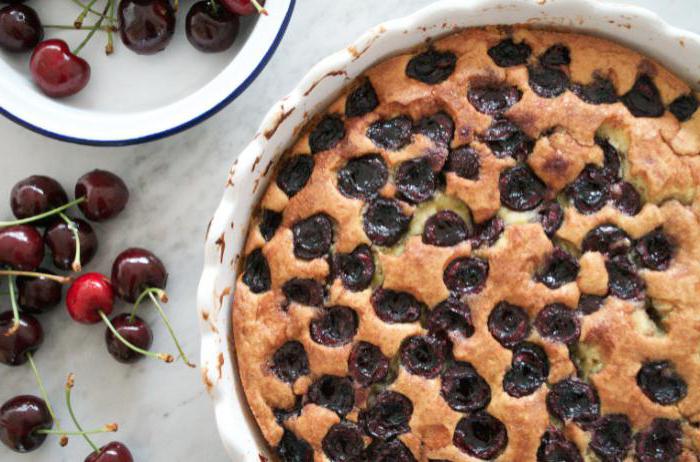 The secrets of cooking delicious charlotte
For baking to be good, it is not enough just to read the recipe of blueberry charlotte and cook it. You still need to know a few small tricks:
The cake will be more porous and airy if you add a little starch to the dough. The same ingredient will help reduce its caloric content.
Do not try to put a lot of sugar in the dough, otherwise the charlotte will be badly baked.
When baking in the oven, place a cup of water under the pan. It is necessary that the product rose well.
While cooking the cake, do not open the oven, otherwise it will strongly settle.
If you are cooking pastries with frozen blueberries, be sure to add starch, it will not let the juice out.
If desired, add nutmeg, cinnamon or ginger to the dough; they will add a refined and rather original flavor to charlotte.
To make it easier to get the cake out of the mold, immediately after removing it from the oven, place it on a wet towel.
These simple rules are sure to help you make the blueberry charlot as you need it - refined and tasty.But so that it turns out to be worthy of the royal table, do not forget to make a pie in a good mood and pleasure.
Related news
Blueberry Charlotte: Recipes and Cooking Secrets image, picture, imagery