ASUS X75V: An inexpensive and massive computer with great potential.
Taiwan-based computer maker ASUS is rightfully considered one of the leaders in the notebook market and one of the leading companies in the entire industry. Without losing pace, the manufacturer annually manufactures several different models in various price segments, including the budget one. This article will focus on an atypical device - a 17-inch laptop at a low price. So, the review ASUS X75V 2013 release.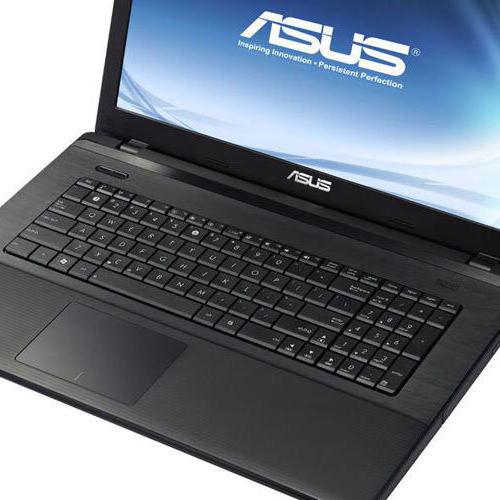 Specifications
For convenience, information is presented in the form of a table.
| | |
| --- | --- |
| CPU | Intel Core i5-3210M, clock speed 2500 MHz, maximum acceleration up to 3100 MHz |
| RAM | 4 gigabytes |
| HDD | 750 gigabytes, 5400 revolutions per minute |
| Video card | integrated - Intel HD Graphics 4000 discrete - NVIDIA GeForce 610M with 1 gigabyte of memory |
| Display | 17.3 inches glossy |
| Battery | 4400 milliamps * hour |
| Operating system ASUS X75V | Windows 7 |
| Dimensions and weight | 42 x 28 x 3.5 centimeters, 3 kilograms |
Design and communication
The appearance of the gadget is not remarkable.The design hardly differs from that in other laptops of the company. The manufacturer clearly did not think about the development of a new design, therefore, in this model, users will face all the same strict and time-tested style. The case of the gadget is made of plastic and there are no metal parts in it. The budget is manifested in other aspects. The lid of the laptop is grooved on the outside, so that the laptop doesn't look too dull and does not collect fingerprints. The work area is made of textured matte plastic, pleasant to the touch and not too easily soiled.

Despite the massive dimensions, the computer is equipped with a standard set of ports, without any additions. On the left side there are: a socket for connecting the power supply, a standard network port, a VGA port, an HDMI port, 2 second-generation USB ports, 1 third-generation USB port, an audio port (combo). On the right side, there is a Kensington lock and a DVD drive. At the front bevel hides a slot for memory cards of different standards, including SD and SDXC.
Keyboard and touchpad
The keyboard mechanism in ASUS X75V provides for the presence of a rubber membrane, which is why it flexes closer to the center, and individual keys are significantly lost in stability.In addition, the keys are not very comfortable shape with a beveled edge. Two of these factors adversely affect the comfort of long-term work with the keyboard. The keys are matte, not very branded, slightly rough, pleasant to the touch. There is a digital block, which is quite logical if we take into account the dimensions of the device, but it is located close to the arrow keys, which will surely cause confusion during high-speed, blind typing.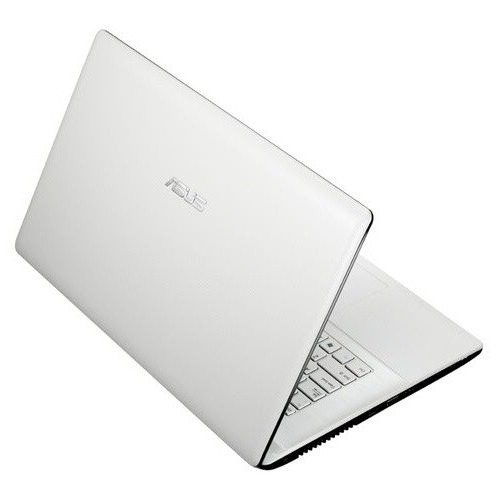 Under the keyboard is a compact touch pad, slightly shifted to the left (centered on the main keyboard unit). The touchpad has the same texture as in other laptops from ASUS, there are no revelations. There are no separate function keys; they are combined with a touch sensitive zone and are separated only visually. Supported technology Palm Proof, protecting against accidental touch with his palms while working with the keyboard.
Display and sound
The laptop is equipped with a large-scale display panel with a diagonal of 17.3 inches and a resolution of 1,600 x 900 pixels. For such a large matrix, the resolution, of course, is not enough, the user will clearly see the detached pixels and all the advantages of a large display will be dimmed due to their low density.The display uses a TN-matrix and LED lights. Viewing angles are average, far from ideal, in any case, you will have to select the optimal angle for the highest quality picture. Glossy coating of the display has a positive effect on color and brightness, but shows its disadvantages when exposed to sunlight.
For sound playback is responsible proprietary stereo system SonicMaster Lite. Both speakers are located on the bottom. In general, the sound is far from perfect. The volume is extremely low, high frequencies wheeze, there is a slight distortion and loss in details. The sound is as budget as possible, as is the computer itself.
Performance and autonomy
The basis for the hardware of the laptop served as a dual-core Intel Core i5 processor (Ivy Bridge) with a clock frequency of 2,500 megahertz. Turbo Boost technology is supported, which allows to increase this figure to 3 100. This chip is produced by 22 nanometer process technology, which has a positive effect on its power consumption, it is much lower than that of quad-core counterparts.
For graphics performance in the laptop ASUS X75V meets the integrated video subsystem from Intel,which processes simple graphic data (mainly system utilities, web sites, and so on) and a discrete graphics card from NVIDIA, used when maximum performance is required, for example, when launching games with complex 3D graphics. They work almost identically, without much difference in speed, but the second supports DirectX 11 libraries, which has a positive effect on the use of modern gaming solutions.
These components complement 4 gigabytes of DDR3 RAM. Not enough in the current reality, but at the time of the release of the computer it was more than enough. Now it's worth thinking about expanding the amount of memory up to 8 gigabytes after acquiring a laptop. As for the main memory, there is a lot of it, as much as 750 gigabytes, except that this volume is provided by an old-fashioned and very slow hard drive, which should also be replaced with a productive SSD memory block.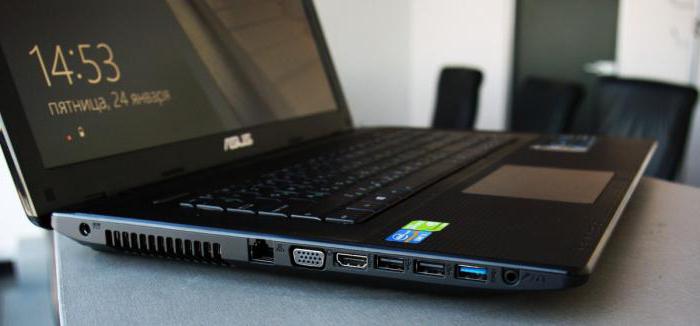 The laptop also found a place for a six-section battery of 4,400 milliampere * hour. ASUS has equipped the computer with a special power controller, which is designed to increase the battery life. On average, a computer can live for about 4 hours (with a moderate load).An important feature is the presence of a data loss protection system that saves all open files if the charge reaches critical values.
Instead of conclusion
So before us is the classic ASUS budget solution. Moderately productive, affordable, reliable. No frills, everything is as dry as possible. Features ASUS X75V is not impressive, but from a budget computer and do not expect another. There is potential for a small "upgrade" that will make this workhorse even more productive and capable of doing serious work. It is worth considering a purchase if you need a laptop with a large display.
Related news
ASUS X75V: An inexpensive and massive computer with great potential image, picture, imagery